In updating Air Crashes and Miracle Landings we added this disastrous test flight because it had so many lessons for pilots and programmers of fly-by-wire systems. The lessons learned most likely saved lives on revenue flights. Extract:
Not All Pilots Can Conduct Air Tests (Off French Med. Coast, 2008)

What was expected to be a mere formality turned to disaster

This highlights the danger of pilots who are not test pilots carrying out tests without defining what constitutes a pass or fail, and the problems a pilot can face on taking over manual control from the computer.

XL Airways Flight 888T, November 27, 2008

Faced with a refusal by the air traffic controller at Bordeaux on the French Atlantic coast to allow them to  engage in test flights in general air traffic, the pilots of the Airbus A320 had cut short their "acceptance flight" and turned back to Perpignan Airport on the Mediterranean. In just under an hour—half the time intended—they had surreptitiously managed to fit all but one of the tests into their flight plan without air traffic control objecting.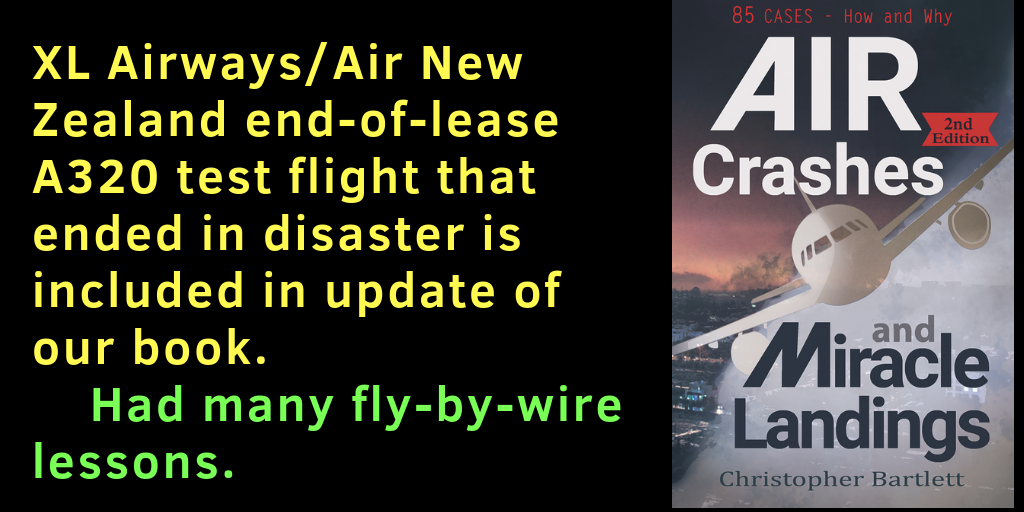 Extract continued:
….
The elevators (operated via the sidestick) could not overcome the combined effect of the pitch trim set at its maximum nose-up and the go‑around thrust of engines set low down under the wings also levering the nose up.

At 15:45:42, after rising enough for the stall warning to stop momentarily, the airspeed had fallen to 40 knots. Two seconds later the maximum values recorded were a pitch of +57 degrees (i.e. exceedingly nose up), and an altitude of 3,788 feet, at which point the aircraft lurched over and careered down into the sea. All on board, including three Air New Zealand engineers and a New Zealand Civil Aviation Authority official in the passenger cabin, were killed.

Only sixty-two seconds had elapsed between the time the stall warning first triggered and the moment the recordings stopped!

The Investigation

This crash was very troubling because a month earlier another Airbus, a Qantas A330, had behaved very bizarrely (see Chapter 17) off the coast of Australia, albeit with the pilot managing to recover. After first suspecting the Air Data Inertial Reference Units as the Qantas A330 investigators had done, the French investigators were able to show the cause was the freezing of the water in the mechanisms of the two angle of attack sensors on the left of the fuselage. A third sensor still working was ignored by the system on the "odd man out" principle.
END OF EXTRACT
Click link to —> Table of Contents