We have just published a two-part large print edition of Air Crashes and Miracle Landings for readers who said they were so fascinated they were reading it cover to cover.
In September 2019 we will be publishing Part 3–a glossary and flying dictionary full of facts. Here is an extract: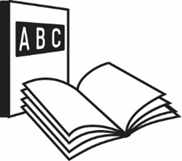 Technologically speaking, 1969 was a remarkable year. In February there was the maiden flight of the Boeing 747, followed a month later by that of the Anglo-French supersonic Concorde. Then to cap it all, on July 21 Neil Armstrong took man's first steps on the moon.
Prototype four-engine jet aircraft that first flew on July 15, 1954 and was the forerunner to the KC-135 Stratotanker and the Boeing 707.
The names of Boeing jet airliners begin with a 7 simply because that was the number the company used to designate a jet as opposed to, say, a piston-engine aircraft. Adding a 7 at the end was customary to avoid the appearance that it was the first one of a type and because it sounded better. The 7X7 denomination subsequently stuck and became so well known that people often omit the Boeing prefix when referring to their civilian jet airliners.
Note that the B in, say, the B-52 and B-17 bombers does not refer to Boeing, even though they are Boeing aircraft. (See Designations for US Military Aircraft.)
[Editor's note: Unless otherwise specified, the year after an aircraft type indicates when it entered service and not the date of the first flight. The number after the forward slash is the number (including variants) produced. A plus (+) sign indicates production is ongoing.]
Based on design work for the 367-80 (Dash-80) prototype jet-engine midair-refueling platform, the Boeing 707 was not quite the brave betting-the-companyventure it is often purported to have been, since there was an obvious market for the refueling tanker because jet-engine bombers developed in the late 1950s had to lose height and slow to almost stalling speed for refueling by traditional piston-engine tankers.
Having developed the refueling boom used by those piston-engine tankers, Boeing duly received orders for what they called the KC-135 Stratotanker. It was ultimately to prove a greater money-spinner than the famous 707, because the arrival on the commercial scene of competitors, such as Douglas with the DC-8, which had a wider cabin and greater payload, necessitated a number of expensive modifications to the airliner variant.
The 707 entered commercial service in 1958 with Pan Am across the North Atlantic, just a few weeks after the much smaller and more-expensive-to-operate revamped British Comet 4. (See Comet.)
Douglas, the longtime favorite of the US civil aviation industry, had held back on developing a jet-engine airliner in the expectation that economical turboprops would be the sensible and logical next step. Once a reliable and much faster jetliner arrived on the scene, it was obliged to follow suit, for the public regarded turboprops as passé, even though they are really a jet engine with a propeller attached to it.
Pan Am's exclusive 707 jet flights had the then-unheard-of load factors of 90 percent.
Originally a sales flop, this hundred-seat twinjet was the MD-95 before Boeing took over McDonnell Douglas and renamed it the 717. A derivative of the DC-9 family, it has now found a new lease of life in the secondhand market, with Delta and Hawaiian Airlines pouncing on any that become available—"they look so modern" say Delta.
When introduced into commercial service in December 1967, the Boeing 727 was the first trijet, and no one imagined it would become one of the most successful aircraft up to that time, with production continuing up until August 1984. As a short- to medium-range airliner, it was widely used on US domestic routes via secondary airports. Overseas airlines also had many similar routes where it could be used to advantage.
For a passenger with a window seat above the wing, the sight of the deployment of its flaps and slats was astounding—the wing would seem to spread like that of an eagle, allowing you to see right through the middle. As Boeing said, these sophisticated, triple-slotted, trailing-edge flaps and novel leading-edge slats gave the 727 low-speed landing and takeoff performance, unprecedented for a commercial jet, allowing it to service smaller airports than those the 707 required. The width of the fuselage was nevertheless the same as the 707's.
Pilots greatly appreciated the operational flexibility these flaps and slats provided but at first failed to realize they presented a danger. Extremely high sink rates could develop without them noticing—37 percent thrust was required just to maintain level flight with full flap. Recovery from a high sink rate, and especially at low airspeeds and low engine revolutions, took time, and until they remembered this, there were occasions when there was not enough time, with disastrous results. In those days pilots did not have the sophisticated automatic sink-rate warnings they have now—one reason why flying is so much safer today.
Other novel features that made it possible to deploy the aircraft at smaller airports with limited facilities included:
An auxiliary power unit (APU), providing electrical power without having to run the engines;
The ability to back up without a tractor;
An underbelly gravity-operated airstair to enable passengers to embark and disembark without provision of steps by the airport. (A hijacker famously deployed this airstair midflight to parachute from the aircraft with two hundred thousand dollars in ransom money. (See D. B. Cooper.)
There was an incident in 1979 where a 727 climbed to 39,000 ft to escape from a 100 mph headwind that had been delaying progress and using up its fuel. At that exceptionally high altitude, the aircraft suddenly yawed, flipped over, and entered a precipitous dive. Deployment of the spoilers/air brakes had no effect, and it was only by lowering the landing gear (undercarriage) at an airspeed where doing so would normally be unthinkable—resulting in the housing being ripped off—that the pilot, a Captain Gibson, was able to recover and land safely.
Though many thought Gibson a hero, the authorities accused him, the copilot, and the flight engineer of having intentionally deployed the slats in order to be able to fly better at that great height—it being alleged that pilots were in the habit of doing this surreptitiously. Gibson always maintained that one of the slats had deployed on its own with no input from the crew.
An excellent account of this muddied affair can be found in Stanley Stewart's excellent Emergency: Crisis on the Flight Deck.According to Stewart, deploying the slats did not improve performance at great heights, and the whole idea of pilots doing this on a large scale must therefore have been largely untrue.
Whatever the truth, it was an early demonstration of how dangerous it can be if something untoward happens when cruising in thin air at very great heights, in other words in "coffin corner."
The most successful series of aircraft ever. Having passed through three generations and looking forward to a fourth, the 737 is still going strong. In 2015 the total number produced and on order exceeded thirteen thousand.
The 737 is a narrow-body twinjet and is especially favored by low-cost carriers, such as the US's Southwest Airlines and Ireland's Ryanair. When first conceived in the mid-1960s, the aircraft had relatively small Pratt & Whitney JT8D-1 engines under the wings, allowing it to sit very close to the ground.
This had a number of advantages, such as facilitating servicing of the engines and faster turnaround times, since baggage, food, refreshments, and so on did not have to be heaved high up in the air. One disadvantage has been lack of room for modern, more powerful, larger-diameter engines. The solution chosen was to place engine accessories to the side of the engines, which explains the odd-looking oval-shaped nacelles.
People might well be surprised to know that sales of the 737 were initially so sluggish that in 1970 Boeing was considering canceling the program and selling the design to the Japanese.
By progressively improving on and adding to a basic design, a process called "grandfathering," Boeing has been able to proceed without waiting for time-wasting approvals.
There are four generations of 737: (1) Original; (2) Classic; (3) Next Generation; and (4) Max, that first went into service in 2017. Boeing did around 2014 toy with the idea of developing a completely new aircraft to replace the 737 but decided against it in view of the enormous cost of doing so, and no doubt the billions of dollars spent on the 787. Also, with technology and materials continuously evolving, it is difficult to choose the right moment to go for a radical new design. If one launches a new design prematurely, one runs the risk of it being out of date shortly after entering service.
737 MAX ……………………………………………………………….
———————————————————-
Table of Contents
7X7 Designation for Boeing Airliners 2
707 (Boeing 707) 1958/1,010 KC-135 Stratotanker 1957/800 Approx. 2
727 (Boeing 727) 1967/1,381_ 3
737 (Boeing 737) 1968/8,471+_ 5
747 (Boeing 747 Classic and Variants) 1970/1,514+_ 7
747-8 (Boeing 747-8) 2012/97+_ 8
757 (Boeing 757) 1983/1,050_ 9
767 (Boeing 767) 1982/1,038+_ 9
777 (Boeing 777) 1995/1,340+ (September 2015) 11
787 (Boeing 787 Dreamliner) 2011/329+_ 12
A300 (Airbus A300) 1974/561 14
A320 (Airbus A320 Family) 1988/6,774+_ 15
A340 (Airbus A340) 1993/375 A330 (Airbus A330) 1994/908+_ 17
A380 (Airbus 380) 2007/87+_ 18
Accident Models (Academic Theories) 21
ADF: Automatic Direction Finder 22
Administration or Agency? (US Usage) 23
ADS-B: Automatic Dependent Surveillance-Broadcast 23
Aerodynamics Index (NASA Glenn Research Center) 25
AFCS: Automatic Flight Control System_ 25
AIDS: Aircraft Integrated Data System_ 27
AIM (Aeronautical Information Manual) 27
Air Traffic Flow Management (ATFM) 31
Air Transport Association (ATA) [US] 31
A320 Paves the Way to Success and Overconfidence 35
Aircraft Registration Codes 38
Airline Deregulation Act (US) 40
Airworthiness Directive (AD) 42
Alarp: As Low as Is Reasonably Practicable 43
Alphabet Enunciation (A, B, C…) 45
ASK: Available Seat Kilometers 49
ASRS: Aviation Safety Reporting System_ 49
ATA: Air Transport Association of America_ 50
ATIS: Automated Terminal Information Service 51
ATPL: Airline Transport Pilot License 51
Automated External Defibrillator (AED) 53
Autorotation (Autogiro/Helicopter) 54
B- (B-17, B-29, B-52, etc.) 56
Behavior Detection Officers 57
CAM: Cockpit Area Microphone 62
Category (Visibility for IFR Approach) 63
CDL: Configuration Deviation List 65
Center: Air Route Traffic Control Center 65
CFIT: Controlled Flight into Terrain_ 65
Chapter 11 (of US Bankruptcy Code) 66
CHIRP: Confidential Human Factors Incident Reporting_ 67
CFDS: Centralized Fault Display System_ 67
Cockpit Voice Recorder (CVR) 68
Cockpit-Centric (as Opposed to Tower-Centric) 70
Concorde (Supersonic Transport) 72
Computer-Aided Design: CAD_ 73
Connectors (Airlines Based on Strategic Hubs) 74
Constellation/Lockheed Constellation Military 1943, and Civil Version 1945 850+_ 74
Convair 880 and 990, 1960/65 and 1961/37 76
CPL: Commercial Pilot License 79
Criminalization (Antithesis of "No Blame") 80
CRM: Crew Resource Management 80
Cycle (Usually Equal to Number of Flights) 81
CVR: Cockpit Voice Recorder 81
DC-8 (Douglas DC-8) 1959/556_ 85
DC-9 (McDonnell Douglas DC-9) 1965/576 (Prior to MD Variants) 86
DC-10 (McDonnell Douglas DC-10) 1971/386_ 86
KC-10 (McDonnell Douglas KC-10) 1981/64 86
Decompression (Loss of Cabin Pressure) 88
Designations (US Military Aircraft) 90
Directed Energy Weapons—Ray Guns 92
DME: Distance Measuring Equipment 93
DNIF: Duties Not Involving (Including) Flying_ 94
DOC: Direct Operating Costs 94
Dryden Flight Research Center (NASA) 96
EASA: European Aviation Safety Agency_ 97
ECAM: Electronic Centralized Aircraft Monitor (Airbus) 98
EFIS: Electronic Flight Instrument System_ 98
EICAS: Engine Indicating and Crew Alerting System (Boeing) 99
Electronic Flight Bag (EFB) 100
Elevon (Elevator + Aileron) 100
EMAS: Engineered Material Arresting Systems 101
Envelope/Pushing the (Flight) Envelope 102
EPR: Engine Pressure Ratio_ 102
EUCARE: European Confidential Accident Reporting_ 103
Evacuation (Certification) 103
Extension (Runway Extension) 105
FAA: Federal Aviation Administration (US) 106
FADEC: Full Authority Digital Engine Control 106
FAR: Federal Aviation Regulations 106
Fin (Tail Fin); Vertical Stabilizer (US) 108
Flight Data Management (FDM)/Analysis (FDA) 109
FMS: Flight Management System_ 112
FOD: Foreign Object Damage/Foreign Object Debris 112
Freedoms (Overfly, Landing Rights) 113
Funneling (Navigation Paradox) 116
Gait Analysis/Facial Recognition_ 118
Generation (e.g., Fifth Generation) 119
Glide Ratio (How Far with No Engine?) 120
GPS: Global Positioning System_ 122
Graveyard Spiral and Spatial Disorientation (SD) 124
Ground Proximity Warning System: GPWS 125
High-Bypass Turbofan Engines 129
HSI: Horizontal Situation Indicator 129
Hydrogen-Powered Airliners? 130
IATA: International Air Transport Association_ 132
ICAO: International Civil Aviation Organization_ 132
IED: Improvised Explosive Device 133
IFE: In-Flight Entertainment (Systems) 133
IFF: Identification of Friend or Foe 134
IFR: Instrument Flight Rules 134
ILS: Instrument Landing System_ 134
IMC: Instrument Meteorological Conditions 134
Inertial Navigation System (INS) 134
Insulation (Electrical, Thermal, Acoustic, Etc.) 135
Intelligent Flight Control System (IFCS) 135
Intersection (Navigation Using Radio Aids/VOR) 136
ITCZ: Intertropical Convergence Zone 137
JFK/John F. Kennedy International Airport 138
Knot (kt): Nautical Miles Per Hour 140
Lease (Wet/Dry, and So On) 143
Learning Curve (Aircraft Production Costs) 144
Lidar: Light Detection and Ranging_ 146
MANPADS: Man-Portable Air Defense Systems 150
Maximum Takeoff Weight: MTOW_ 151
METAR: Aviation Routine Weather Report 153
Microsoft Flight Simulator 154
MORA: Minimum Off-Route Altitude 155
MRO: Maintenance, Repair, and Overhaul 155
MSA: Minimum Safe Altitude 155
N1 and N2 (Engine Performance) 156
Nanosatellite (Microsatellite) 157
NASA: National Air and Space Administration_ 157
National Air and Space Museum (Washington): NASM_ 157
NDB: Nondirectional Beacon_ 158
NextGen: Next Generation Air Transportation System_ 158
Number One, Two, or Three Engine? 159
NTSB: National Transportation Safety Board_ 161
Onboard Threat Detection System_ 163
PFD: Primary Flight Display_ 167
Pilot Training (Becoming a Pilot) 169
Planetary Gears/Cyclic Gears 170
Pods (Engines Mounted in Pods under Wings) 170
PPL: Private Pilots License 172
PPRuNe: Professional Pilots Rumour Network_ 172
Quick Access Data Recorder (QADR) 173
Radar: Radio Detection and Ranging_ 175
RDD: Radiological Dispersal Devices 178
Rejected Takeoff: RTO (Aborted Takeoff) 180
RFID: Radio Frequency Identification_ 180
RPK: Revenue Passengers Kilometers 182
Sabotage (First Proven Case) 186
Screening of Passengers, Luggage, and Freight 187
SHM: Structural Health Monitoring_ 189
Shoe Bomber (Richard Reid) 189
Sidestick: Sidestick Controller (SSC) 192
SIGINT: Signals Intelligence 192
Sigmet: Significant Meteorological Information_ 192
Skidding and Sideslipping_ 192
SKYbrary (http://www.skybrary.aero) 193
SMS: Safety Management Systems 194
SOP: Standard Operating Practice 194
Spitfire (Legendary World War II Fighter) 195
SSR: Secondary Surveillance Radar 196
Static Wicks/Static Discharge Wicks 198
Structural Health Monitoring (SHM) 198
Supersonic Flight (>Mach 1) 199
Supersonic Transport (SST) 200
Swiss Cheese Accident Model 200
TACAN: Tactical Air Navigation_ 202
Taking Off (Critical V-Speeds) 202
Taking Off (Flap and Slat Settings) 202
Taxiing (from Gate to the Runway) 203
Taxiing (from Runway to Gate) 203
TCAS: Traffic Alert and Collision Avoidance System_ 204
TCDS: Type Certificate Data Sheets (FAA) 204
TRACON: Terminal Radar Approach Control 206
Trident (Hawker Siddeley Trident) [1964] 117_ 207
TriStar (Lockheed L1101) 1972/250 208
TSA: Transportation Security Administration_ 208
Undercarriage/Landing Gear 210
USA: United Space Alliance 211
UTC: Coordinated Universal Time/Zulu_ 211
V1: Takeoff decision speed_ 212
VREF: Speed for Final Phase of a Landing_ 212
VASIS: Visual Approach Slope Indicator System_ 213
VC10 (Vickers VC10) 1964/54_ 213
VFR: Visual Flight Rules (as Opposed to IFR) 213
Viscount (Vickers Viscount) 1950/445 214
VOR: Very High-Frequency Omnidirectional Range 214
WAAS: Wide Area Augmentation System_ 215
Wiring and Wi-Fi (Special Wave Band) 217
Our online Shop for Multiple Copies 228

Contents
7X7 Designation for Boeing Airliners 2
707 (Boeing 707) 1958/1,010 KC-135 Stratotanker 1957/800 Approx. 2
727 (Boeing 727) 1967/1,381_ 3
737 (Boeing 737) 1968/8,471+_ 5
747 (Boeing 747 Classic and Variants) 1970/1,514+_ 7
747-8 (Boeing 747-8) 2012/97+_ 8
757 (Boeing 757) 1983/1,050_ 9
767 (Boeing 767) 1982/1,038+_ 9
777 (Boeing 777) 1995/1,340+ (September 2015) 11
787 (Boeing 787 Dreamliner) 2011/329+_ 12
A300 (Airbus A300) 1974/561 14
A320 (Airbus A320 Family) 1988/6,774+_ 15
A340 (Airbus A340) 1993/375 A330 (Airbus A330) 1994/908+_ 17
A380 (Airbus 380) 2007/87+_ 18
Accident Models (Academic Theories) 21
ADF: Automatic Direction Finder 22
Administration or Agency? (US Usage) 23
ADS-B: Automatic Dependent Surveillance-Broadcast 23
Aerodynamics Index (NASA Glenn Research Center) 25
AFCS: Automatic Flight Control System_ 25
AIDS: Aircraft Integrated Data System_ 27
AIM (Aeronautical Information Manual) 27
Air Traffic Flow Management (ATFM) 31
Air Transport Association (ATA) [US] 31
A320 Paves the Way to Success and Overconfidence 35
Aircraft Registration Codes 38
Airline Deregulation Act (US) 40
Airworthiness Directive (AD) 42
Alarp: As Low as Is Reasonably Practicable 43
Alphabet Enunciation (A, B, C…) 45
ASK: Available Seat Kilometers 49
ASRS: Aviation Safety Reporting System_ 49
ATA: Air Transport Association of America_ 50
ATIS: Automated Terminal Information Service 51
ATPL: Airline Transport Pilot License 51
Automated External Defibrillator (AED) 53
Autorotation (Autogiro/Helicopter) 54
B- (B-17, B-29, B-52, etc.) 56
Behavior Detection Officers 57
CAM: Cockpit Area Microphone 62
Category (Visibility for IFR Approach) 63
CDL: Configuration Deviation List 65
Center: Air Route Traffic Control Center 65
CFIT: Controlled Flight into Terrain_ 65
Chapter 11 (of US Bankruptcy Code) 66
CHIRP: Confidential Human Factors Incident Reporting_ 67
CFDS: Centralized Fault Display System_ 67
Cockpit Voice Recorder (CVR) 68
Cockpit-Centric (as Opposed to Tower-Centric) 70
Concorde (Supersonic Transport) 72
Computer-Aided Design: CAD_ 73
Connectors (Airlines Based on Strategic Hubs) 74
Constellation/Lockheed Constellation Military 1943, and Civil Version 1945 850+_ 74
Convair 880 and 990, 1960/65 and 1961/37 76
CPL: Commercial Pilot License 79
Criminalization (Antithesis of "No Blame") 80
CRM: Crew Resource Management 80
Cycle (Usually Equal to Number of Flights) 81
CVR: Cockpit Voice Recorder 81
DC-8 (Douglas DC-8) 1959/556_ 85
DC-9 (McDonnell Douglas DC-9) 1965/576 (Prior to MD Variants) 86
DC-10 (McDonnell Douglas DC-10) 1971/386_ 86
KC-10 (McDonnell Douglas KC-10) 1981/64 86
Decompression (Loss of Cabin Pressure) 88
Designations (US Military Aircraft) 90
Directed Energy Weapons—Ray Guns 92
DME: Distance Measuring Equipment 93
DNIF: Duties Not Involving (Including) Flying_ 94
DOC: Direct Operating Costs 94
Dryden Flight Research Center (NASA) 96
EASA: European Aviation Safety Agency_ 97
ECAM: Electronic Centralized Aircraft Monitor (Airbus) 98
EFIS: Electronic Flight Instrument System_ 98
EICAS: Engine Indicating and Crew Alerting System (Boeing) 99
Electronic Flight Bag (EFB) 100
Elevon (Elevator + Aileron) 100
EMAS: Engineered Material Arresting Systems 101
Envelope/Pushing the (Flight) Envelope 102
EPR: Engine Pressure Ratio_ 102
EUCARE: European Confidential Accident Reporting_ 103
Evacuation (Certification) 103
Extension (Runway Extension) 105
FAA: Federal Aviation Administration (US) 106
FADEC: Full Authority Digital Engine Control 106
FAR: Federal Aviation Regulations 106
Fin (Tail Fin); Vertical Stabilizer (US) 108
Flight Data Management (FDM)/Analysis (FDA) 109
FMS: Flight Management System_ 112
FOD: Foreign Object Damage/Foreign Object Debris 112
Freedoms (Overfly, Landing Rights) 113
Funneling (Navigation Paradox) 116
Gait Analysis/Facial Recognition_ 118
Generation (e.g., Fifth Generation) 119
Glide Ratio (How Far with No Engine?) 120
GPS: Global Positioning System_ 122
Graveyard Spiral and Spatial Disorientation (SD) 124
Ground Proximity Warning System: GPWS 125
High-Bypass Turbofan Engines 129
HSI: Horizontal Situation Indicator 129
Hydrogen-Powered Airliners? 130
IATA: International Air Transport Association_ 132
ICAO: International Civil Aviation Organization_ 132
IED: Improvised Explosive Device 133
IFE: In-Flight Entertainment (Systems) 133
IFF: Identification of Friend or Foe 134
IFR: Instrument Flight Rules 134
ILS: Instrument Landing System_ 134
IMC: Instrument Meteorological Conditions 134
Inertial Navigation System (INS) 134
Insulation (Electrical, Thermal, Acoustic, Etc.) 135
Intelligent Flight Control System (IFCS) 135
Intersection (Navigation Using Radio Aids/VOR) 136
ITCZ: Intertropical Convergence Zone 137
JFK/John F. Kennedy International Airport 138
Knot (kt): Nautical Miles Per Hour 140
Lease (Wet/Dry, and So On) 143
Learning Curve (Aircraft Production Costs) 144
Lidar: Light Detection and Ranging_ 146
MANPADS: Man-Portable Air Defense Systems 150
Maximum Takeoff Weight: MTOW_ 151
METAR: Aviation Routine Weather Report 153
Microsoft Flight Simulator 154
MORA: Minimum Off-Route Altitude 155
MRO: Maintenance, Repair, and Overhaul 155
MSA: Minimum Safe Altitude 155
N1 and N2 (Engine Performance) 156
Nanosatellite (Microsatellite) 157
NASA: National Air and Space Administration_ 157
National Air and Space Museum (Washington): NASM_ 157
NDB: Nondirectional Beacon_ 158
NextGen: Next Generation Air Transportation System_ 158
Number One, Two, or Three Engine? 159
NTSB: National Transportation Safety Board_ 161
Onboard Threat Detection System_ 163
PFD: Primary Flight Display_ 167
Pilot Training (Becoming a Pilot) 169
Planetary Gears/Cyclic Gears 170
Pods (Engines Mounted in Pods under Wings) 170
PPL: Private Pilots License 172
PPRuNe: Professional Pilots Rumour Network_ 172
Quick Access Data Recorder (QADR) 173
Radar: Radio Detection and Ranging_ 175
RDD: Radiological Dispersal Devices 178
Rejected Takeoff: RTO (Aborted Takeoff) 180
RFID: Radio Frequency Identification_ 180
RPK: Revenue Passengers Kilometers 182
Sabotage (First Proven Case) 186
Screening of Passengers, Luggage, and Freight 187
SHM: Structural Health Monitoring_ 189
Shoe Bomber (Richard Reid) 189
Sidestick: Sidestick Controller (SSC) 192
SIGINT: Signals Intelligence 192
Sigmet: Significant Meteorological Information_ 192
Skidding and Sideslipping_ 192
SKYbrary (http://www.skybrary.aero) 193
SMS: Safety Management Systems 194
SOP: Standard Operating Practice 194
Spitfire (Legendary World War II Fighter) 195
SSR: Secondary Surveillance Radar 196
Static Wicks/Static Discharge Wicks 198
Structural Health Monitoring (SHM) 198
Supersonic Flight (>Mach 1) 199
Supersonic Transport (SST) 200
Swiss Cheese Accident Model 200
TACAN: Tactical Air Navigation_ 202
Taking Off (Critical V-Speeds) 202
Taking Off (Flap and Slat Settings) 202
Taxiing (from Gate to the Runway) 203
Taxiing (from Runway to Gate) 203
TCAS: Traffic Alert and Collision Avoidance System_ 204
TCDS: Type Certificate Data Sheets (FAA) 204
TRACON: Terminal Radar Approach Control 206
Trident (Hawker Siddeley Trident) [1964] 117_ 207
TriStar (Lockheed L1101) 1972/250 208
TSA: Transportation Security Administration_ 208
Undercarriage/Landing Gear 210
USA: United Space Alliance 211
UTC: Coordinated Universal Time/Zulu_ 211
V1: Takeoff decision speed_ 212
VREF: Speed for Final Phase of a Landing_ 212
VASIS: Visual Approach Slope Indicator System_ 213
VC10 (Vickers VC10) 1964/54_ 213
VFR: Visual Flight Rules (as Opposed to IFR) 213
Viscount (Vickers Viscount) 1950/445 214
VOR: Very High-Frequency Omnidirectional Range 214
WAAS: Wide Area Augmentation System_ 215
Wiring and Wi-Fi (Special Wave Band) 217